construction projects
delaware memorial bridge
construction project UPDATES
Suspension Rope Replacement
Several suspender ropes and their connection brackets were found to show corrosion in past annual inspections. Replacement has been prioritized based on condition with sixty-two (62) rope assemblies replaced in 2016 followed by an additional sixteen (16) assemblies in 2017 and thirty-eight (38) assemblies in 2021. There are thirty (30) assemblies currently under contract for replacement by the fall of 2022 and it is expected that all 276 suspension rope assemblies and brackets will be complete by the fall of 2026. The cost of the remaining replacements is estimated at approximately $20 million.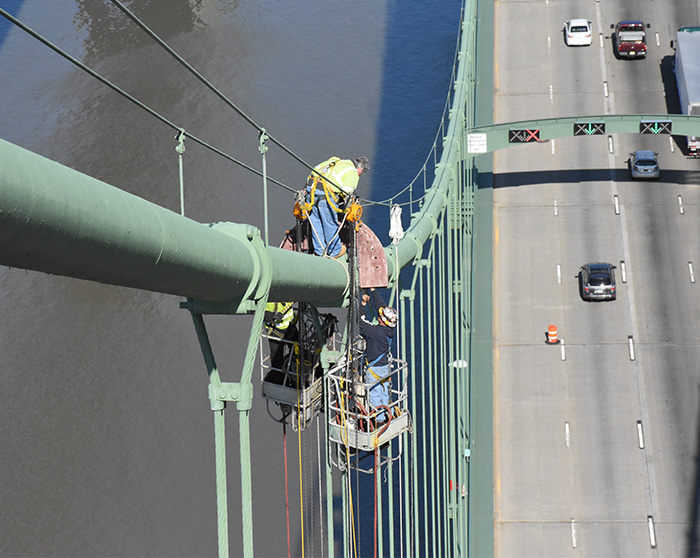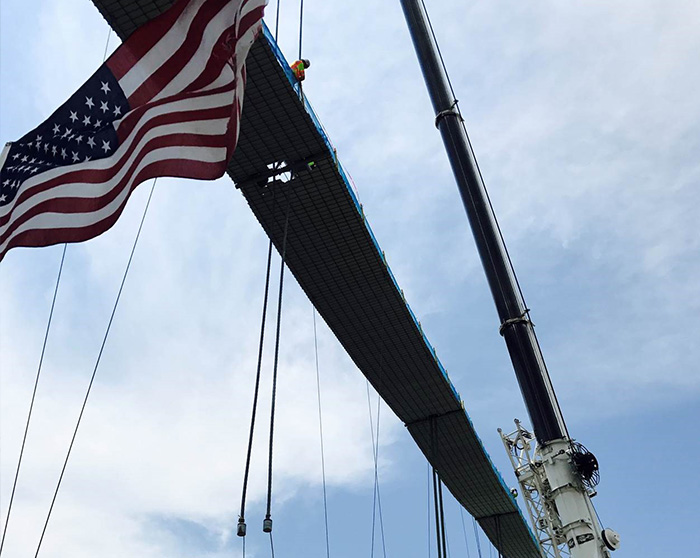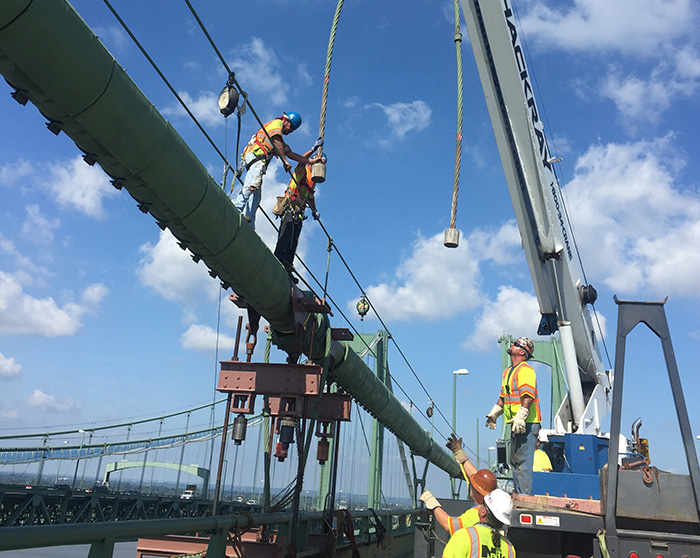 Delaware Memorial Bridge Coating Removal and Replacement
The protective paint coatings on certain segments of the 1st and 2nd Structures are no longer performing as required. To ensure the structural steel is adequately protected, the coatings on these portions of the bridges are scheduled for complete removal to bare metal and replacement with a 3‐layer protective overcoat system, similar to efforts previously completed on other portions of the bridge superstructure.
The coating replacement on all four towers has been completed and the Delaware River and Bay Authority is nearing completion of the 2021 project which includes painting both sections of the northbound bridge between the towers and the anchorages. The 2022 project which was recently bid includes the center span section between the east and west towers. The total replacement program cost for both bridges is estimated at approximately $50 million.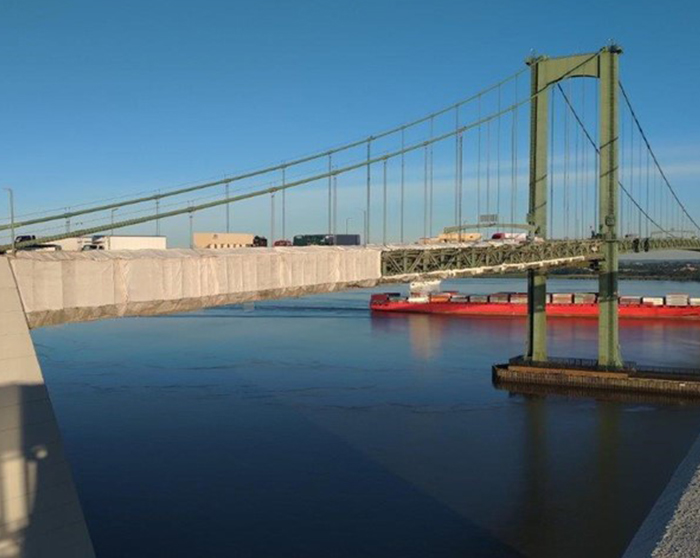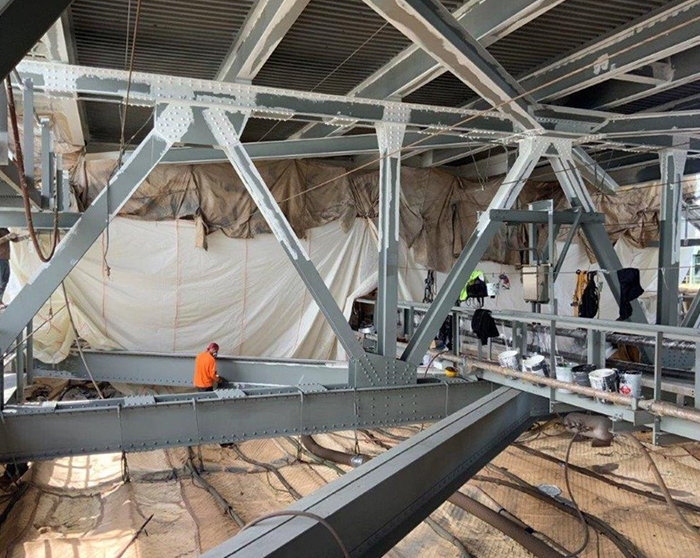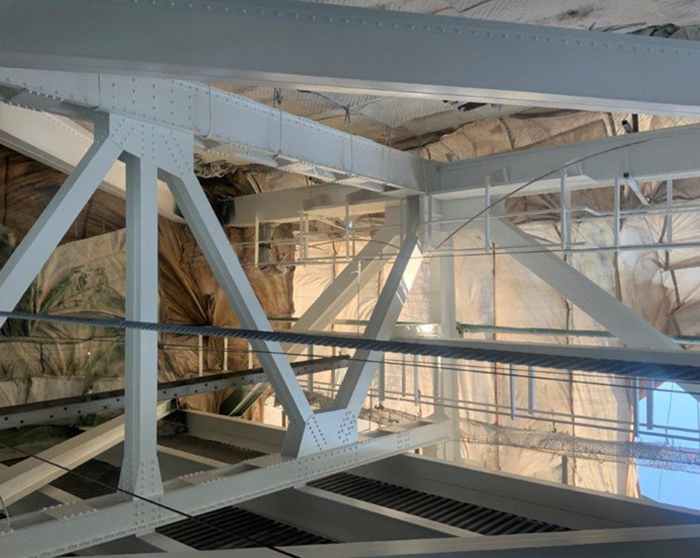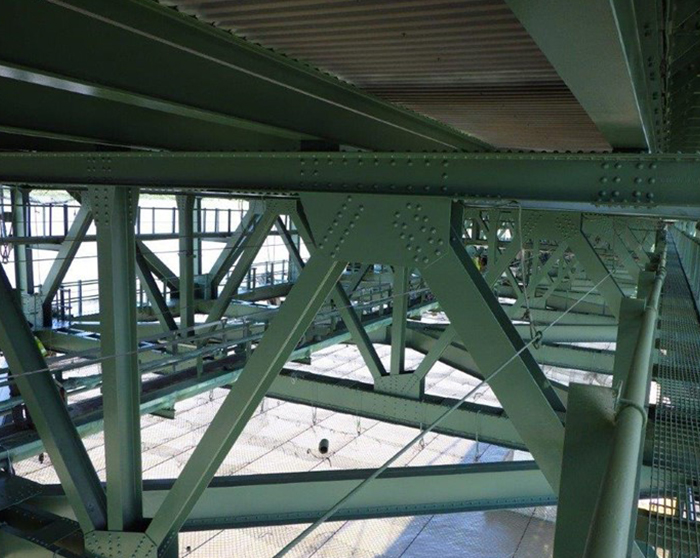 Ultra-High-Performance Concrete (UHPC) Deck Overlays – New Jersey Span
The Delaware Memorial Bridge is exhibiting deck cracking and delamination as well as potholes due to age and heavy truck volumes. In 2020, the DRBA engaged in a pilot project to demonstrate a proof of concept for Ultra-High-Performance Concrete (UHPC) overlay on the deck of the Delaware Memorial Bridge. Sections of the bridge deck were removed, the area rehabilitated, and then overlayed with UHPC. The pilot project has been monitored with positive results and will continue to be evaluated over the next several months. The full UHPC overlay program of the NJ bound span will begin as early as the fall of 2022 and is currently expected to take three to four seasons (two falls/one or two springs) to complete at an estimated cost of approximately $65 million.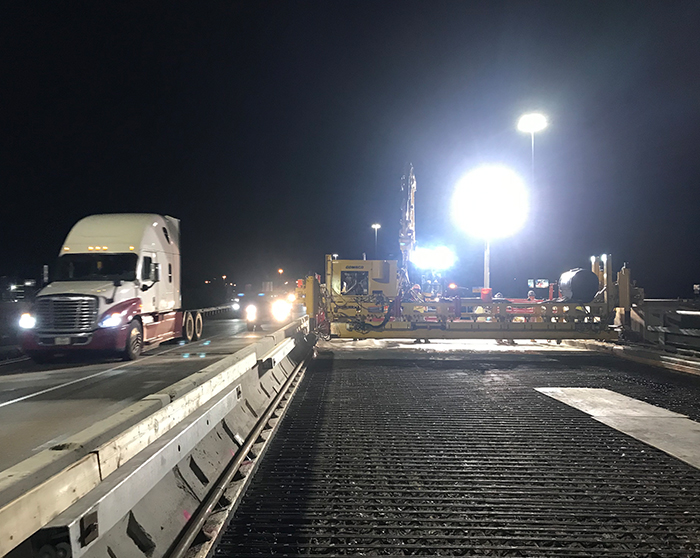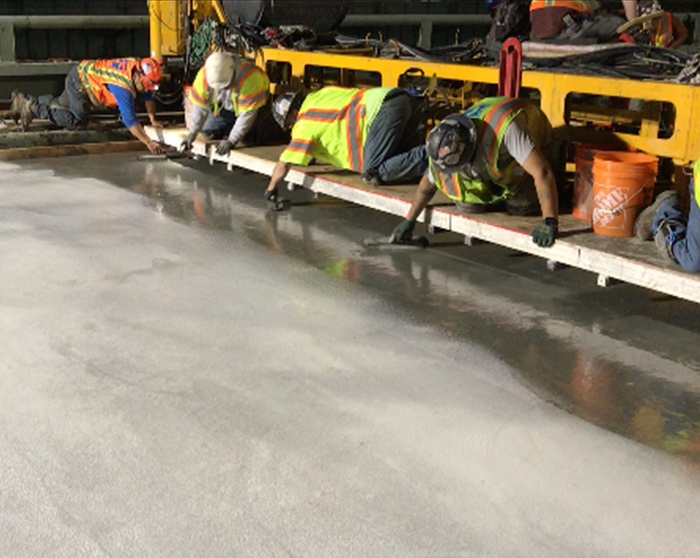 bridge facts
Opened to the Public: August 16, 1951
Connecting: New Castle, DE and Pennsville, NJ
Overall Length: 3,650 Feet
Bridge Type: Twin Span Suspension Bridge
Initial Cost: $44 Million - First Span
Twin Span: Added 1968
Daily Crossings: 100,000 vehicles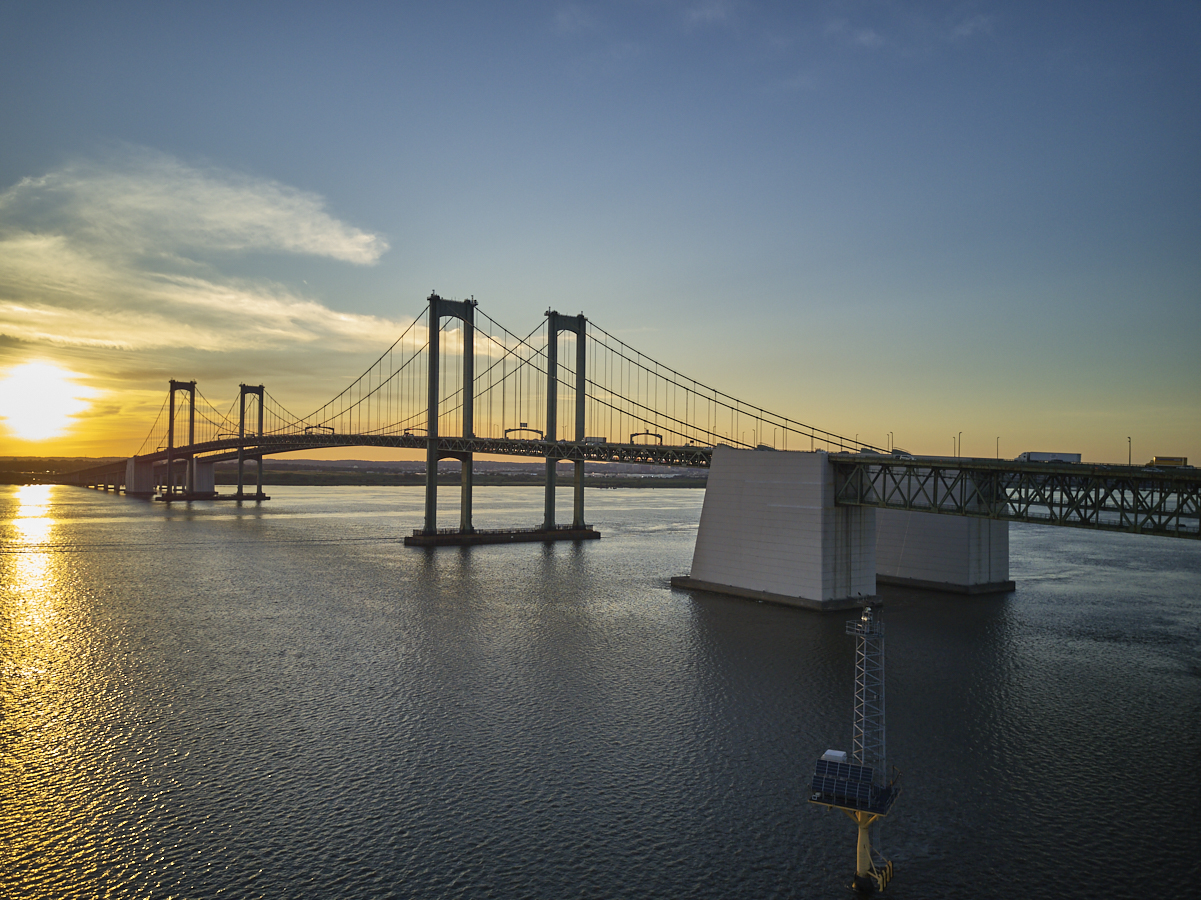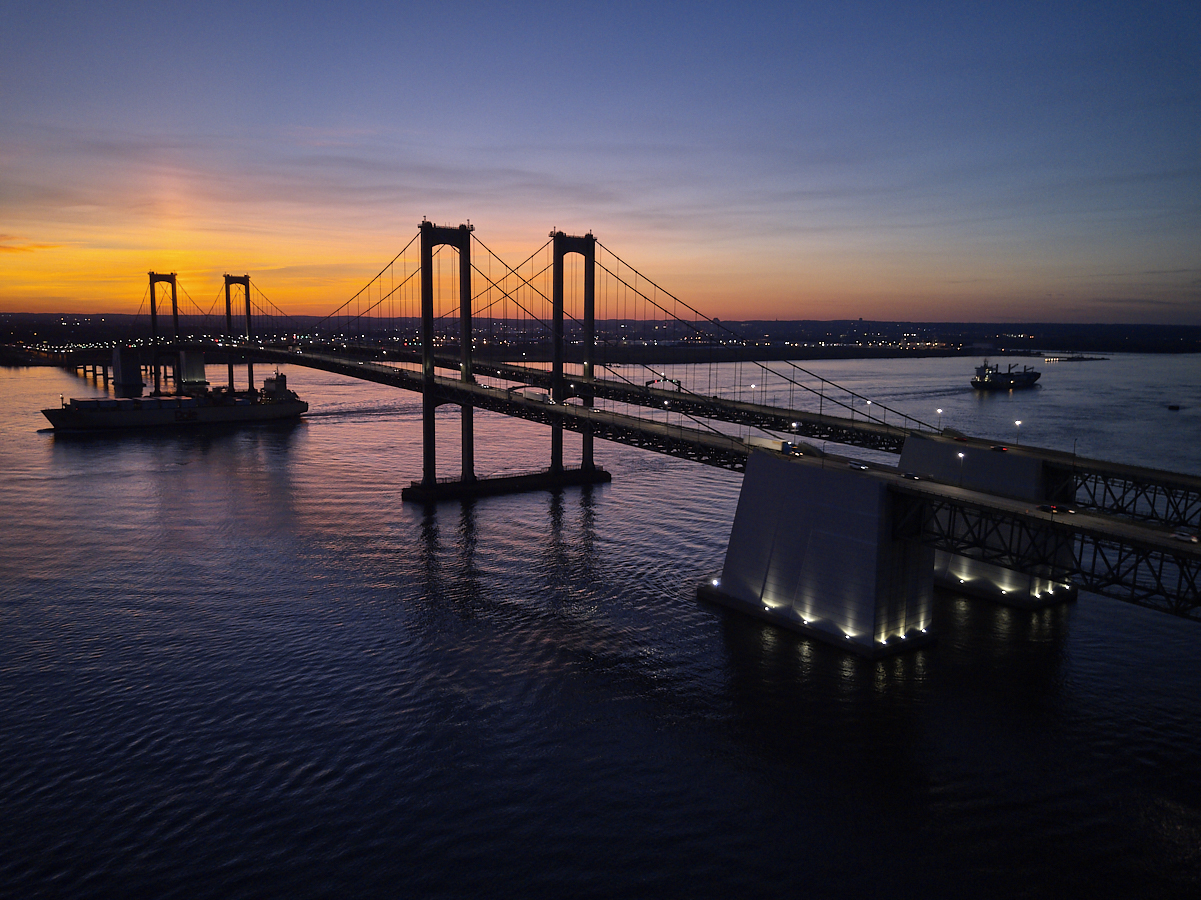 Did You Know?

Fraternal, not identical…to the eye, the two spans of the Delaware Memorial Bridge look identical. Most of the differences are the result of improved construction technology. In fact, the original span (heading to New Jersey) is one foot taller than the second span.
Business Services