New Production Kitchen at the Cape May Terminal
New Production Kitchen at the Cape May Terminal
A new production kitchen was created for the Cape May terminal in order to prepare food for the ferries!
Several years ago, Ferry staff determined that the optimal path forward was to privatize our shoreside food and retail operations in both Lewes and Cape May, while retaining our vessel food and retail business.  Prior to outsourcing, vessel food was mostly prepared in our Cape May Terminal kitchen with certain items prepared in our Lewes Terminal kitchen.  When Grain took over our food and retail operations in Lewes, all food preparation shifted to Cape May.  When Exit Zero took over food and retail services in Cape May (and, therefore, the Terminal kitchen), we needed an alternative way to prepare vessel food.  The method we chose was to create a production kitchen.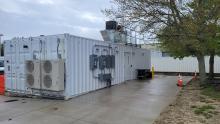 In the food industry, a production kitchen is a site that prepares food, but does not serve customers on the premises as a restaurant does. The lead time required to construct a production kitchen in Cape May did not line up with the deadline to vacate the Terminal kitchen in favor of Exit Zero.  So, on a temporary basis we rented a trailer to prepare food while the production kitchen was being built.  While cramped, it did the job on a temporary basis. As so often occurs these days, supply chain issues delayed the opening of the production kitchen for many months, but fortunately we are now preparing all the vessel food in the new facility.
The production kitchen has a staff of seven, operating three shifts, with up to four staff working at any one time. The production kitchen provides both hot and cold food for the vessels year-round. 
Fun facts courtesy of Food & Retail Superintendent Shaun O'Brien: last year we sold over 43,000 pretzels, 17,000 hot dogs, and 16,000 breakfast sandwiches, not to mention plenty of parfaits and Caesar salads.  He also notes that we sell a wide variety of products and will be featuring such enticing new items this season as Cuban, Monte Cristo, and chipotle turkey sandwiches.